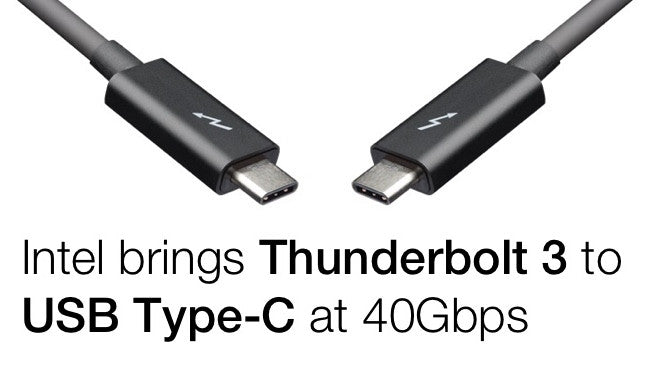 USB-C to USB-C Cable VS Thunderbolt 3 Cable
With 2016 Macbook Pro with touch bar , you got USB-C to leverage powerful external accessories , such as 5K monitor, Samsung T3 SSD . But what kind of cable you will need to connect these accessories to your Mac?   What is the difference between USB-C Charging Cable and Thunderbolt 3 cable ? what is PASSIVE Thunderbolt 3 Cable vs ACTIVE Thunderbolt 3 Cable ?  We should have all these questions answered in this ShopGalaxie Tech Blog Post.
USB-C Charge Cable
(AKA  USB-C to USB-C cable , The Charging Cable comes with your Macbook Pro )
Quote from Apple's product description : "This 2-meter charge cable — with USB-C connectors on both ends — is ideal for charging USB-C devices, and also supports USB 2 for syncing and data transfer between USB-C devices." This cable only can support USB 2 speed. So don't use this cable to connect to Samsung T3 external Hard Drive.
PASSIVE Thunderbolt 3 Cable
These cables are only capable of delivering 40Gbps speed if they are 0.5M or less in length. 1M (like this cable) and 2M cables are only capable of delivery 20 Gbps. This is important to keep in mind for a few reasons:
1) "This cable" can NOT run a 5K display as Best Buy's description claims because it is 1M passive cable and can't deliver the required bandwidth to drive a 5K display
2) Not an ideal choice if you plan on hooking up high speed SSD raids, for example, because real world speeds will top out between 1300 MBps - 1500 MBps. (Similar to TB2)
ACTIVE Thunderbolt 3 Cable
These cables are capable of delivering the claimed 40 Gbps at 1M and 2M lengths because they have special chips built into each end that allow them the highest possible data transfer speeds over longer distances. I like to think of these chips like signal boosters that are often used when a really coaxial cable is required. Without those boosters the signal degrades, similar to these cables speed loss over longer distances.
1.) These cables are REQUIRED to run a 5K display at this time (unless you are using a 0.5M or less passive cable.
---